Handong Global University,
Announcement of Faculty Opening,
Spring Semester of 2024
Handong is God's Institution- Educating People of God through Ways of God
1. Vision and Educational Goals
First, Handong Global University nurtures honest Christian leaders from all walks of life who change the world for the glory of God in a spirit of love, humility, and service.
Second, Handong Global University fosters honest international leaders who serve their communities, countries, and the world, especially in developing countries, from a foundation of professionalism and morality.
Third, Handong Global University devotes itself to academic disciplines from a Christian worldview, establishes goals that are true to education, restores Biblical creationism, and cultivates competent and honest intellectuals who bring restoration to corrupt ethics and morals.
2. Faculty Invitation Field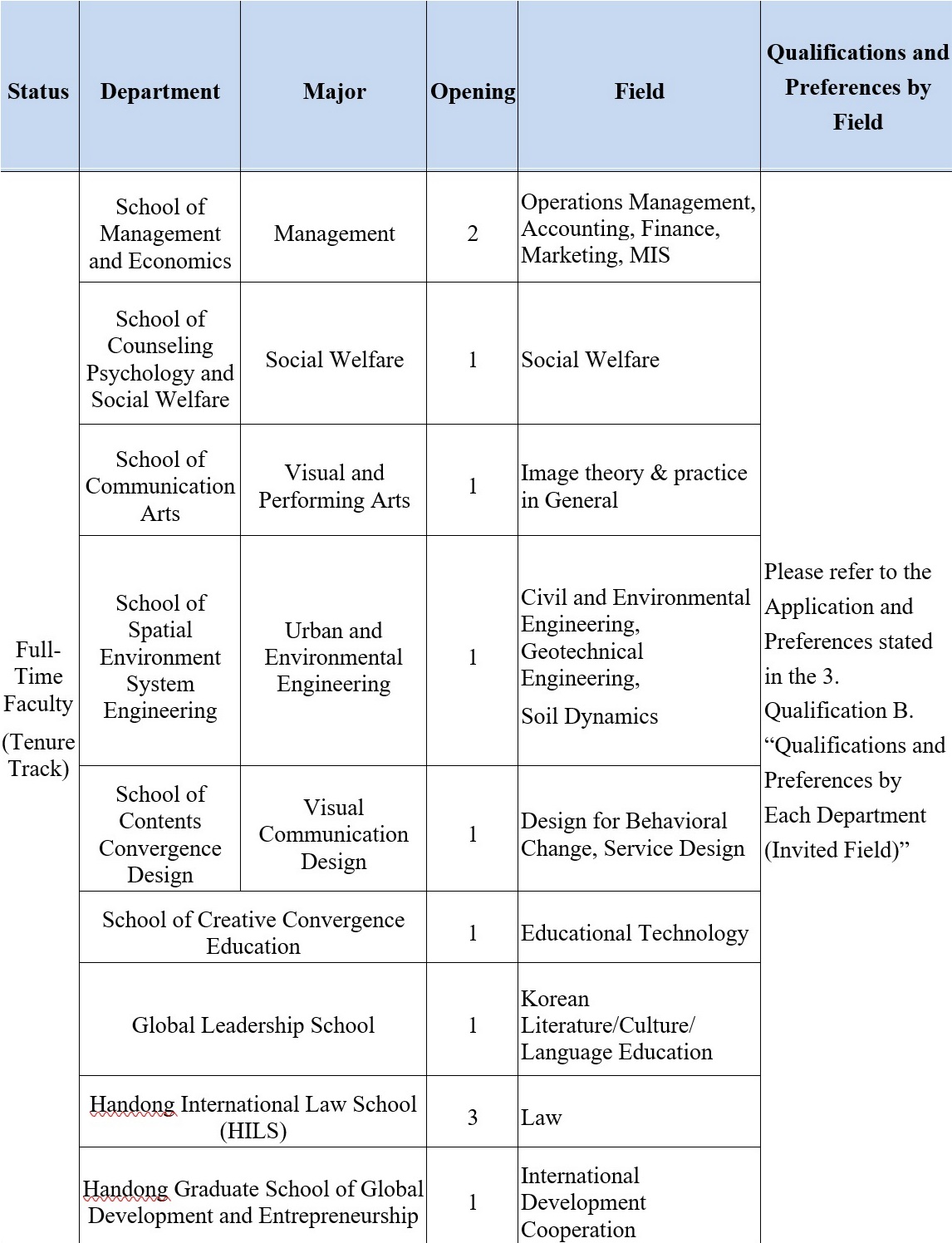 ※ If there is no qualified applicant, so recruitment may not happen in that field.
3. Qualification
One may apply with the conditions listed below. In addition to the requirements, the following criteria have to be met: being able to instruct students with a Christian perspective, providing a whole-person education ensuring the goal of our university, and understanding and participating in Christian mind and fulfilling of such goal.
A. Common Qualifications for Full-Time Faculty Application and Preferences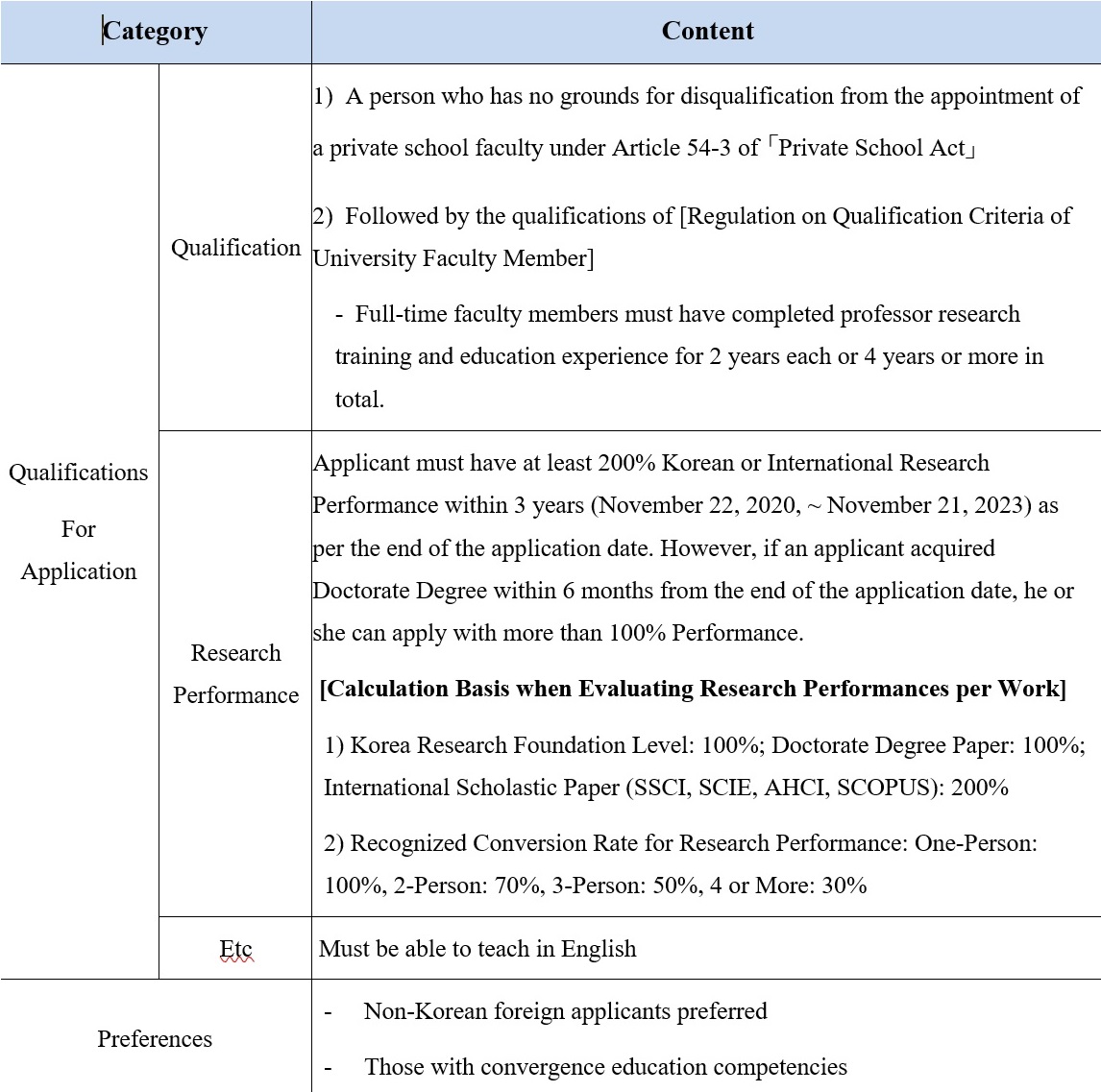 B. Qualifications and Preferences by Each Department (Invited Field)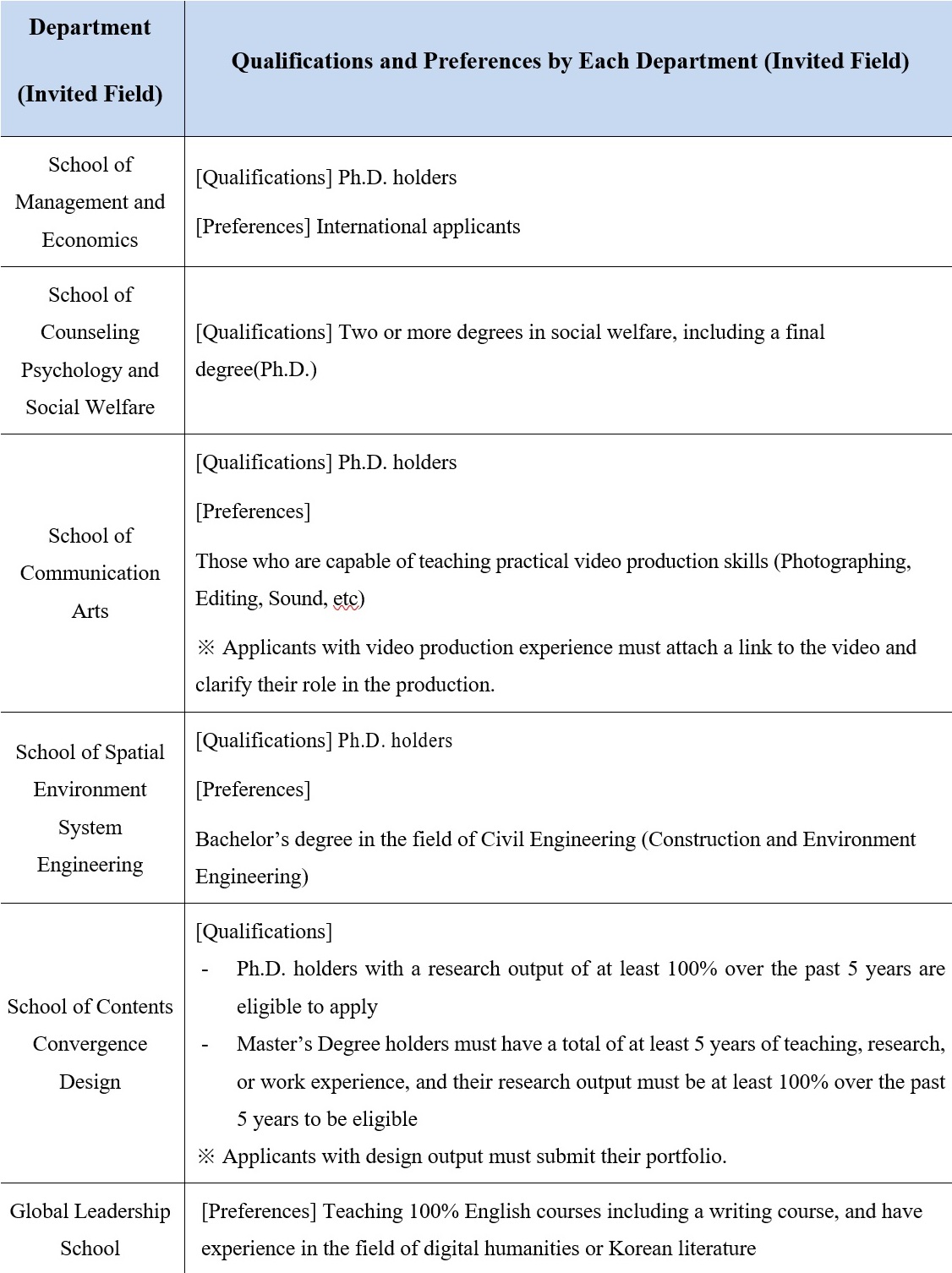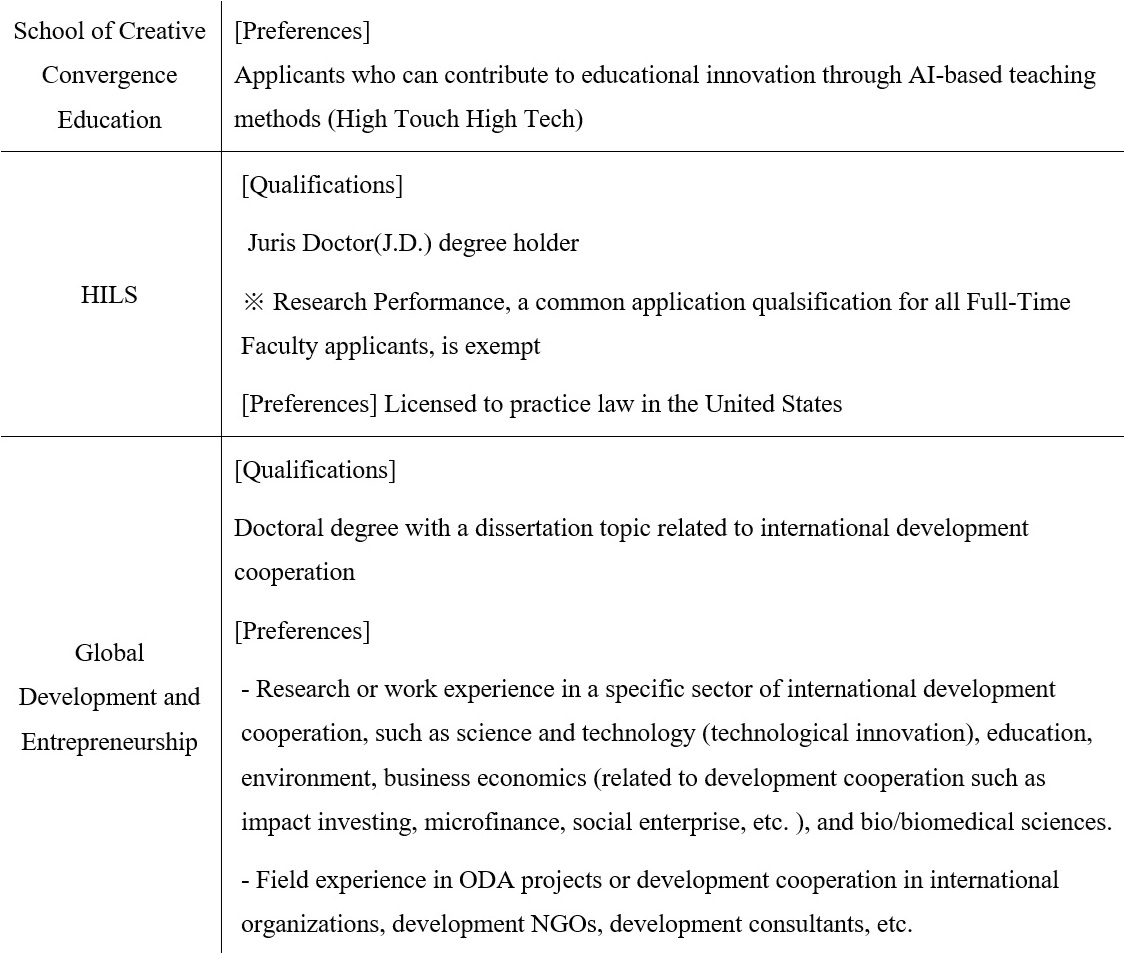 ※ In the case of research results and qualifications for application, if there are any qualifications suggested by the department (invited field), applicants shall follow the qualifications in accordance.
For example, applicants in School of Contents Convergence Design can apply with 100% research performance (Ph.D. holders) presented by the department (invitation field) rather than 200% or more of the common qualifications.
4. Documents Required
Submit by email with a PDF file of the following documents (jin74@handong.edu)
You can download a link to the application by following the link below
https://www.handong.edu/eng/media/careers/announcement/?mode=view&id=44906&group=0
One copy of faculty application
One copy of each certificate of academic backgrounds (transcripts and graduation certificate for all undergraduate, master, and doctoral courses)
One copy of the confirmation of working experience (for the past 4 years only. When applicant becomes a finalist, confirmation of all work experience must be submitted).
Two Recommendation Forms- One Recommendation each from major and non-major recommenders (faith related).
One copy of license
One copy of research and development performance list (title, researcher, publication date, publication paper, thesis outline)- listing all periods can be written in free form
One copy of doctoral thesis and one copy of thesis done within 3 years.
One copy of research achievements other than the thesis (for the last 3 years as of the application deadline)
※5,6,7,8 required only for the applicable person
5. Application Procedure
A. Application Period: 2023.11.1.(WED) ~ 11.21.(TUE) 5 P.M. (KST)
B. Submission Method: Email submission (jin74@handong.edu )
(A confirmation email will be sent upon receiving the application)
C. Selection Process: Qualification Screening  ⇨Basic Screening   ⇨Specialty Screening
⇨ Interview Interview with President of Handong Global University
* Each stage is conducted only for those who have passed the previous stage, and the result of each stage is notified by e-mail and phone.
Evaluation will be given on the suitability of major field, academic excellence, and instructor qualifications.
The Assessment of the understanding of school, the vision of the university, global competency, and English teaching ability
6. Others
The ability to embody and teach students from a Christian perspective should be proved in the self-introduction letter.
A finalist's appointment can be canceled if the application is found to be falsified.
Other matters not specified in this notice are subject to faculty personnel regulations of the incorporation of Handong Global University
Restriction on appointment of holders of a bachelor's degree from a specific university (Regulations on the basis: Article 4-3 of Decree on the Appointment of Public Officials in Education.)
7. Inquiries
For further details, please contact the Office of Academic Affairs
Person in Charge: Eunjin Kim (jin74@handong.edu) / Website: http://www.handong.edu
Tel. 054-260-1842 / Fax. 054-260-1079