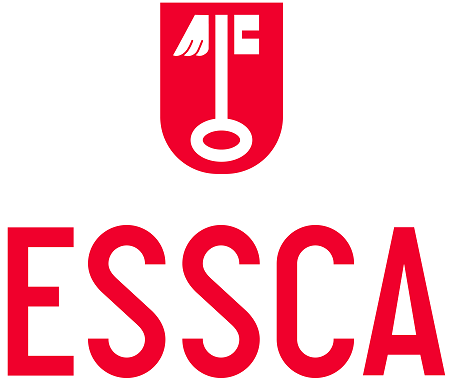 Faculty Positions available at ESSCA
To contribute to its success and development, ESSCA relies on high quality professors and talented teams in all parts of its organisation. Accordingly, and in line with its ambitious Strategic Plan "Odyssée 20-24", ESSCA is recruiting across several campuses.
THE POSITIONS
ESSCA invites applications in the following specialist areas:
The positions are open to candidates with a proven teaching record and a coherent research agenda (except for the Assistant Professor post in English Language where research does not apply). Candidates should have a high potential or a significant record of academic publications in peer reviewed journals. For the proposed positions, prior experience in programme development and management would also be highly beneficial.
THE SCHOOL
Founded in 1909, ESSCA is an internationally accredited business school (AACSB, AMBA, EQUIS) located on 10 campuses: Angers, Aix-en-Provence, Bordeaux, Budapest, Lyon, Paris, Shanghai, Strasbourg, and, from summer 2023, Luxembourg and Malaga. For more than 110 years, ESSCA has consistently adhered to the humanistic values that provide its ethical foundations. ESSCA, an association under French law, holds the EESPIG label, which distinguishes French private higher education establishments committed to the success of their students.
ESSCA School of Management creates knowledge and develops responsible managers and entrepreneurs, while fully considering the human, ethical and economic dimensions of organisations in a multicultural environment driven by technology and social innovations.
The school offers a wide range of programmes including undergraduate, integrated masters, MSc, and executive programmes.
In addition to disciple-based research groups in each academic department, the school is also home to four research institutes. The research institutes are dedicated to cross-cutting themes that require a multidisciplinary approach. They aim to produce high-impact research and to promote faculty research work to external stakeholders. Overall, they aim to develop collaborative research projects, notably through action research, research contracts or European projects.
ESSCA offers a quality environment where human relations occupy an essential place. It is an international multicampus workplace, comprising a permanent faculty of 183 Professors, with the highest academic qualifications and significant international and corporate experience. Joining ESSCA means participating in the development of a recognised Grande École, dynamic, innovative, and open to the world.
Please follow the link for each position above if you would like further details or to apply.
Further detailed information on ESSCA, its faculty and research, and programmes can be accessed at www.essca.fr