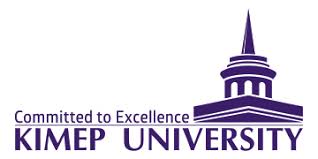 KIMEP University is looking for applicants to the following position:
Dean for General Education
Division: General Education
Academic Unit: Academic Affairs
Reports to: VPAA—Academic Affairs
Job Summary:
The Dean guides the effective day-to-day management of the General Education program. Responsibilities involve directing the academic design, delivery of general education courses, as well as developing long-term strategic planning and primary developmental initiatives within KIMEP University's baccalaureate curriculum. The Dean maintains the sequence of general education courses attended by all undergraduate students. He or she will teach undergraduate or graduate courses (on site and on­line), serve on program and university committees and conduct scholarly research.
Key Responsibilities and Duties of Dean for General Education:
Exercise leadership in planning and development of the General Education program, in curriculum development, and in encouraging innovation in teaching and learning;
Supervise regular curriculum review of the General Education program. Implement curriculum changes as endorsed by KIMEP policy committees and Academic Council;
Lead the effort to develop learning outcomes and methods of assessment suitable to KIMEP's General Education program;
Actively manage the recruitment of full-time and adjunct faculty for teaching courses in the General Education program;
Manage faculty assigned to the General Education program, including promotion, arrangement of leaves, salary determination, assignment of academic and administrative duties, support for research;
Supervises disciplinary, grievance and appeals processes toward resolution in the General Education program; faculty, staff, and students;
Liaise with Deans/Directors of KIMEP's other academic units concerning faculty teaching assignments, operational planning, marketing and other areas of shared interest;
Manage the development of the operating plan for General Education program;
Work with the Vice President of Academic Affairs (VPAA) and Academic Council, to guide development of General Education program;
Serve as a member of the Deans Committee
Represent the program of General Education in KIMEP-wide events and to external constituencies;
Prepare General Education program annual budget and other relevant reports;
Teach one course in each; Fall and Spring semesters, and provide thesis supervision as necessary;
Supervises faculty, clerical, personnel, and student workers assigned to the program;
Work closely with Center for Educational Excellence (CEE) on professional development planning for the University;
Ensures the assessment of program student learning outcomes in accordance with University policies and practices;
Collaborates in developing policies, practices, processes, and programs for the University;
Collaborate with Student and Academic Affairs offices on academic success programs;
Contribute to Professional Development programming and delivery;
Other activities as assigned by the VPAA, predominantly leading regulatory and international accreditation processes;
Provides input to the VPAA on any long-range and strategic planning activities.
Minimum Qualifications:
Doctoral degree in curriculum/instruction for higher education, or a related field from an accredited university;
Five years experience in higher education with a focus on teaching, academic advising and/or curriculum development;
Superior-level proficiency in English, with verified certification at C 2 level for non-native speakers;
A proven record of academic leadership, with professional development and /or instructor supervision in a university context.
Preferred Qualifications:
Understanding of liberal arts general education programs and significant experience in international accreditation;
Excellent verbal, interpersonal, and written communication, problem-solving, and student service skills required;
International experience of undergraduate curriculum development and/or English for academic purposes;
Knowledge of Microsoft programs suite (Excel, Word, Outlook,  Explorer) and  various learning management systems;
Significant experience in developing and teaching on-line courses;
Ability to coordinate multiple projects simultaneously and effectively while meeting required deadlines;
Some knowledge in Russian and /or Kazakh, desirable;
Ability to function productively in a stressful work environment.
KIMEP University
KIMEP University is the leading American-style, internationally accredited, English-speaking academic institution in the region. It provides a world-class academic experience and a unique international environment to all its students and faculty members. KIMEP University was established in 1992 and has built a very strong reputation as a leading provider of higher education. All graduate and undergraduate programs are accredited by at least one recognized international accreditation agency. Academic programs are regularly rated in the top rankings by national bodies.
Almaty, Kazakhstan
The city of Almaty is situated at the base of the majestic Tien Shan mountains in southeast Kazakhstan. About 2 million people live in or near Almaty because it is the financial, cultural, summer and winter sports and cosmopolitan capital of Kazakhstan. Kazakhstan is located in the heart of Eurasia with important commercial inroads bridging Asia and Europe. Forming part of the Silk Road of the 21st century, Kazakhstan offers unique opportunities in finance, oil and gas, economic development, and trade. Kazakhstan has a dynamic economic, social, educational and cultural environment that provides great opportunities for research.
Application Process:
Please submit your application and the following documents (use the "Apply" button above):
Filled and submitted application form via HR Portal: https://hr.kimep.kz/en-US/Home/Vacancy/482
Attach a full CV.
A Cover letter that indicates the position applied for, how you meet the minimum and preferred qualifications and salary expectations gross in KZT.
Please indicate your 2-3 referees' contact details at the HR Portal application form. Only shortlisted candidates's referees would be contacted directly; if you have the recommendation letters you may also attach them to your application.
Closing date for submission of applications is January 8, 2023.
Personal data provided by applicants will be kept confidential and used for recruitment purposes only.
Only short­listed candidates will be informed and invited for interviews by the Selection Committee.