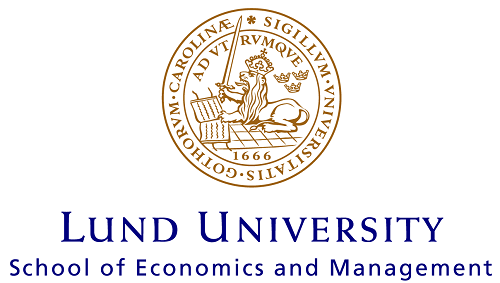 PhD candidate in Business Administration, Entrepreneurship
The Department of Business Administration is announcing one four-year full-time position as a PhD student in Entrepreneurship.
Type of employment: The PhD student will receive a scholarship for the first year and be employed at the department the last three years.
Extent: 100%
Location: Department of Business Administration, Lund University School of Economics and Management, Lund
First day of employment: 1st September or by agreement.
We are looking for one Ph.D. student for a project about the "entrepreneurship industry" encompassing the cultural underpinnings of entrepreneurship and the activities taken to promote entrepreneurship in private, public, and non-governmental organizations or society at large. The broad focus of the project is to scrutinize the relationship between initiatives taken to promote entrepreneurship and entrepreneurial outcomes, with a particular interest in understanding the role of social norms in this relationship. Questions we care about include, for example, how do norms and ideals shape entrepreneurial activities? What are the positive and negative consequences for individuals, organizations, and society from these activities?
We welcome candidates with interest in understanding how norms, cultures and ideals shape decisions and actions and who are curious about the phenomena of entrepreneurship in modern society. The position is connected to ongoing research at the department, and the PhD student will be embedded in a network of researchers in Sweden and abroad. The thesis project will be conducted under the auspices of the Sten K. Johnson Centre for Entrepreneurship.
Work tasks
Regulations concerning appointment as a PhD student can be found in the Higher Education Ordinance Chapter 5, 1–7 §§ and SFS 1998:80. For appointment to the position, you are required to be eligible for admission to the PhD (PhD) programme in Business Administration.
The PhD programme in Business Administration at Lund University is a four-year programme consisting of two parts: a course package comprising 90 ECTS credits, and a PhD thesis comprising 150 ECTS credits. The main task is therefore to devote yourself to your research project and participation in postgraduate courses.
As a PhD student you will mainly be working with your research project, but you can also be given more general tasks at the department, e.g. teaching, research or administrative work, in accordance with the regulations.
Eligibility/Entry requirements
Admission requirements for the PhD programme:
General admission requirements: A master's degree, and 240 completed ECTS credits of university studies. A person may also meet the general entry requirements if he/she has acquired substantially equivalent knowledge in some other way in Sweden or abroad.
Specific admission requirements: At least 90 completed ECTS credits in a subject relevant to the research studies, including a degree project relevant to the research studies, equivalent to at least 15 credits. A person may also meet the specific entry requirements if he/she has acquired substantially equivalent knowledge in some other way in Sweden or abroad.
Requirements for the employment:
Very high proficiency in English, in speech and writing.
Ability to work independently.
Meritorious for the employment:
Courses/modules in Entrepreneurship.
Basis of Assessment
The applicants will be assessed on the basis of their prospects of meeting the requirements for a doctoral degree (PhD) in Business Administration. Particular emphasis will be based on the following:
Academic results, particularly on the master's level.
Bachelor's and master's theses (with special importance attached to the master's thesis).
Relevance and viability of the research plan.
Other results and distinctions which attest to the applicant's ability to profit from the PhD programme.
Other knowledge and skills relevant to the thesis work and the subject of the programme. These can be demonstrated through the attached documents and/or a possible interview.
Decisions on admission to the PhD programme are made by the Head of department after consultation with the Director of the PhD programme and, if necessary, additional co-assessors with special expertise in the applicant's intended thesis area.
Application Procedure
Your application is to be written in Swedish or English.
Send your application as one pdf file to application@fek.lu.se.
The application is to contain the following documents:
A complete application form
Cover letter (max. 2 pages)
Research plan of at most five pages (2.000 words) stating the topic to be investigated and sources of data and methodology the candidate aims to use. The topic should be specific and related to the theme of the project (see above). See template.
Degree certificates of your bachelor's and master's degrees
Copy of your master's thesis, and, where appropriate, your bachelor's thesis.
Executive summary (1.000 words) of your master's thesis, and, where appropriate, your bachelor's thesis
Curriculum Vitae (max. 2 pages)
Copies of certificates and copies of any other documents that you wish to include in your application.
All submitted documents must be attested as to their authenticity.
The application is to be sent to: application@fek.lu.se
Last day for applying: 2nd June 2023
For further information please contact:
Anna Brattström, Associate professor
anna.brattstrom@fek.lu.se
For further information on: