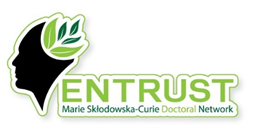 MSCA Doctoral Network
EnTrust
Next Generation of Trustworthy Agri-Data Management
101073381
Acknowledgement: EnTrust is funded by the European Commission as our sponsor for the Doctoral Networks (MSCA-DN-101073381– EnTrust HORIZON – MSCA – 2021 – DN) programme under the Horizon Europe (HORIZON) Marie Skłodowska-Curie Actions.
European Union's Flagship Funding Programme for Doctoral Education and Training of Researchers.

Hiring for EnTrust Doctoral Network (DN) Programme
EnTrust is one of the most sought-after Doctoral network programmes in Europe funded by Marie Skłodowska-Curie Actions (MSCA) which is a part of Horizon Europe. The MSCA are the European Union's flagship funding programme for doctoral education and postdoctoral training of researchers.
EnTrust Doctoral Network will train a cohort of 11 Doctoral Researchers (DRs) in an intersectoral, international and interdisciplinary setting with the aim to establish a new generation of Data Executives that are able to advance the state of the art in sharing data in a fair, transparent, and trusted environment.
The EnTrust positions are open to apply on 14 Mar. 2023. More details available at: https://entrustdn.eu/doctoral-research-positions/
Benefits of EnTrust Doctoral Network to Candidates
An EU Funded PhD Programme for Students Worldwide
Recruiting 11 Doctoral Positions, click here for details <https://entrustdn.eu/doctoral-research-positions/>
Positions open across 5 countries in Europe; Sweden, Ireland, Italy, Greece & Switzerland
Multidisciplinary Research topics on Next Generation of Trustworthy Argi-Data Management
Employment Opportunity – Candidates will receive full-time employment contracts
All qualified individuals are encouraged to apply.
EnTrust recruitment will be fair and transparent and all beneficiaries have adapted and implemented EU policies for equal opportunities and follow the guidelines for Gender in EU- funded research.
For more information on Eligibility Rules and Criteria please access the EnTrust webpage Application Link at: https://entrustdn.eu/doctoral-research-positions/
All Candidates must apply electronically by accessing the application link above. This link will take you to the EnTrust webpage.
Why EnTrust Doctoral Research?
Employment Opportunity: All EnTrust DRs will be internationally recruited for a period of 36 months, will receive full-time employment contracts.
Training: All the DRs will actively participate in the EnTrust Training Programmes. EnTrust will provide training equivalent to 30 ECTS over the duration of the programme.
Planned Secondments: All the DR positions have a planned secondments including the purpose, institutions and secondment supervisors.
International Multi-Disciplinary & Multi-Sectoral: The EnTrust 16 consortium members spread across 6 European countries have extensive experience in European projects as coordinator, partners, industry and academic collaborations, scientific research, international recruitment and graduate training, prototype development and R&D labs.