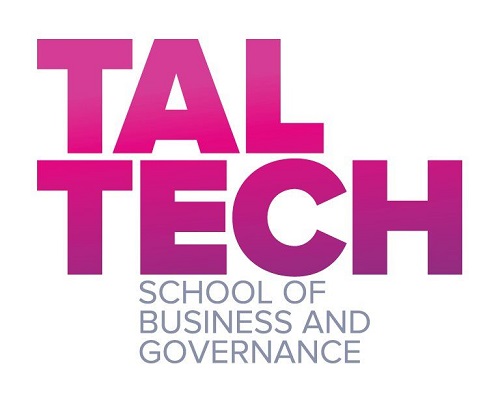 TENURED Professor of Entrepreneurship
Workload: full-time (40 hours a week)
Type of contract: permanent
Employment commencement date: 1 September 2023
Application deadline: 29 January 2023
The Department of Business Administration invites applications for a tenured professor position in Entrepreneurship.
The research carried out at the Department of Business Administration in the School of Business and Governance in Tallinn University of Technology (TalTech) deals with various aspects of business – entrepreneurship, knowledge and technology transfer, strategic management, marketing, supply chain management, accounting and performance management. The School has over 200 employees.
JOB DESCRIPTION
We seek a talented and highly motivated individual with a high-level academic expertise and track record in research on entrepreneurship. The objective of the professorship is to lead and carry out the study, scientific and development processes in the field of entrepreneurship. More precisely, we look for a candidate who actively contributes to technology and innovation-based entrepreneurship, digital startups, sustainable development and management, small businesses as well as the education of entrepreneurs and teaching of entrepreneurial skills and competencies. In alignment with the general aspirations of TalTech, the professor is expected to put some focus on digitalization and/ or green transformation.
The position may be filled as tenure track or tenured Associate Professor or Full Professor, depending on the candidate's merits and career stage. The appointee will be required to conduct research in the field of entrepreneurship as well as related fields, collaborate with other research teams both nationally and internationally, stimulate research activities at TalTech, and apply for funding from national and international sources. The suitable candidate would continuously work on the expansion of national and international networks involving both academics and practitioners. The candidate is also expected to supervise BSc, MSc and PhD students and mentor early stage researchers.
For more detailed information on the position, please contact Merli Reidolf, Deputy Head of the Department of Business Administration merli.reidolf@taltech.ee.
The Department offers
A dynamic and international work environment;
Opportunities for personal and professional development;
A wide network for multidisciplinary cooperation;
Resources for conducting research;
Access to relevant infrastructure;
Competitive salary depending on the candidate's qualification and performance.
Qualification requirements
PhD (or an equivalent) degree in the relevant field;
Postdoctoral or other international work experience in areas related to entrepreneurship research;
Strong publication record that proves the ability for high quality and relevant research in the area of entrepreneurship and related fields;
Track record in attracting collaboration projects and competition-based funding;
Experience in teaching and supervising at all levels (BSc, MSc and PhD level; executive trainings), incl. successful supervision of one or more doctoral theses;
Participation in relevant international networks;
Strong interpersonal skills and ability to work independently;
Experience in research leadership and coordination of research activities;
Fluent written and oral communication skills in English;
Work experience in small businesses and/or startups would be an advantage.
Application instructions
To apply for this job please send the following documents in English by 29 January 2023 (the application deadline) at the latest by using the link "Apply":
a motivation letter;
documents proving that the candidate holds the required academic degree (PhD or an equivalent qualification) for the position applied;
a CV, including a list of publications;
an academic portfolio, including a motivated self-evaluation regarding compliance with the requirements for the tenured professor position set out in the Academic Career Management Regulation, Annex 3 "Academic Evaluation Matrix" (shall be submitted by a university staff member) or a free format evaluation of the academic activity undertaken so far and the competencies required for work (shall be submitted by an external candidate);
a vision or an action plan for the future position (the maximum total length 1500 words);
other documents considered important by the candidate.
For further information on the application documents and recruitment process, please contact the TalTech HR Office: konkurss@taltech.ee.
TALTECH AS AN EMPLOYER
TalTech is an international scientific community with approximately 10,000 students and 2,000 employees, one of the largest universities in Estonia that is the leading EU country in digitalization. The strengths of the university are wide multidisciplinary study/research interests, modern research and study environment as well as strong collaboration with international educational and research institutions.
TalTech has a green and one of the most compact university campuses in Europe that includes the Tehnopol Tallinn Science Park. Our Mektory Innovation and Business Center helps faculties and scientists with funding for their research and business know-how. Low hierarchy, academic freedom and a balanced work and family life is valued at TalTech. The university provides individual development and training opportunities, material and non-material tokens of acknowledgement, sporting opportunities at TalTech Sports Club and all-staff activities.
Estonia has an active startup community. Estonia has the most startups, unicorns and investments per capita in Europe (The State of European Tech 2021 report by Atomico). In 30 years, Estonian economy has been growing faster than any other country with a similar background.